View Customer Announcements
View announcements from your customers.
Your customers can create announcements to be shown to you on the Home page and/or other Coupa Supplier Portal (CSP) pages to help you understand their unique onboarding requirements and communicate with you about initiatives, promotions, and changes required for your collaboration through the CSP. With this one-way communication, your customers can, for example, provide you with instructions on how to join or what to do after joining the CSP, share with you information necessary for transactions, inform you about upcoming orders, remind you of updating supplier information, and more.
You can see your customers' announcements at the top of the right section of the Home page.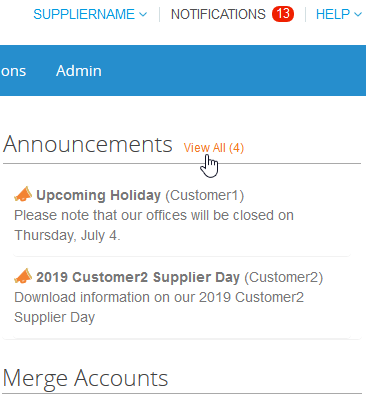 By default, only previews of the two most recent announcements are displayed. You can see the full text of an announcement in a popup after clicking on it.
To view all the announcements with their full message, click on the View All (n) link that takes you to the My Notifications page filtered by Announcements. For more information, see View and Manage Notifications.
The announcements are also shown where all the other notifications appear, that is, in the Notifications and My Notifications sections.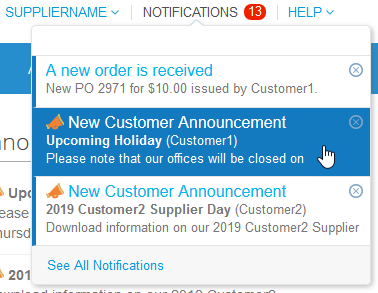 Online notifications are on by default.
You cannot disable online notifications for announcements. Customers' announcements are always shown on the Home and My Notifications pages for the set period of time.
Depending on your notification preference settings, you can also get online and/or SMS notifications.
If your customer selected other pages to inform you about their announcements, you can see a yellow banner at the top of those pages notifying you about the number of announcements for those specific areas from the selected customers and the link from which to access those announcements.

The banner is not visible on the Home, customer-specific Profile view, Admin, and Add-ons pages, and on the Public Profile page accessed from the link under the Public Profile section on the Home page.
Clicking View All Announcements directs you to the My Notifications page filtered by Announcements. For more information, see View and Manage Notifications.
Your customers can delete or edit their announcements. Deleted and expired announcements disappear from the CSP. Also, if you delete a notification for an announcement, then the announcement disappears from the Home page, too.