View and Manage Notifications
View your notifications and set your notification preferences.
Hover your cursor over the Notifications link to see your unread system notifications. Only the three most recent notifications are shown.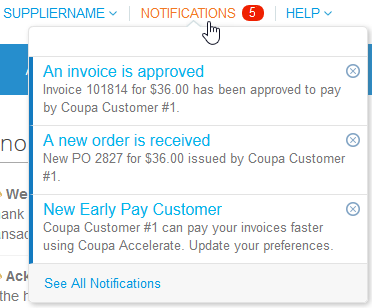 To view all the notifications with their details and to manage them, click on the Notifications or the See All Notifications link.

On the My Notifications page, you can view all your (read and unread) notifications, or you can filter by category (FYI, Todo, Unread, or Announcements). You can select and delete them all or one-by-one.
Clicking on a notification link takes you to the relevant page.
To change your notification preferences, click on the Notification Preferences button in the top tight corner. Or click on your name link and on the Notification Preferences link.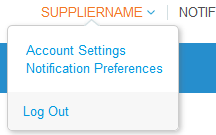 You can access the notification preferences also from your Account Settings. For more information, see Manage Your Account.
On the My Account Notification Preferences page, select the radio buttons for the items that you want to receive any or all of the notification types: online (to do list), email, or SMS (short text message). You will start receiving notifications when your customers enable them.
SMS notifications are turned off by default.
If you turn SMS notifications on, but you disable mobile phone verification, your SMS notification selections are deleted. You can also stop receiving SMS notifications if you reply STOP.
Setting
Description

Announcements

New Customer Announcement

Enabled by default: Online and Email

You cannot disable online notifications for announcements.

Business Performance

Business Performance role granted
Enabled by default: Online
Catalogs
A new comment is received

Enabled by default: Online and Email 

A catalog is approved
Disabled by default.
A catalog is rejected
Disabled by default.
A catalog is about to expire
Disabled by default.
Coupa Accelerate

New Early Pay Customer

Enabled by default: Online and Email
Coupa Pay – Available only if your customer uses Coupa Pay and enabled the related features.
New digital check
Enabled by default: Online and Email
New virtual card
Enabled by default: Online and Email
Virtual card reissued
Enabled by default: Online and Email
Virtual card reminder
Enabled by default: Online and Email
Payment role given to user
Enabled by default: Online and Email
Virtual card processing failure
Enabled by default: Online and Email
Bank transfer remittance advice
Enabled by default: Online and Email
Virtual card remittance advice
Enabled by default: Online and Email
Zero payment remittance advice
Enabled by default: Online and Email
Digital Check Cancelled
Enabled by default: Online and Email
Virtual Card Cancelled
Enabled by default: Online and Email
Invoice Adjusted Automatically
Enabled by default: Online and Email
Digital Wallet Remittance Advice
Enabled by default: Online and Email

Early Payments – Available only if your customer enabled the feature.

Early payment request expired
Enabled by default: Online and Email
Early payment request rejected
Enabled by default: Online and Email
Early payment request matched
Enabled by default: Online and Email
Early payment request paid
Enabled by default: Online and Email
Early Payment Request Rejected by Financier
Enabled by default: Online and Email
Form Responses
A form response is approved
Enabled by default: Online and Email
A form response is rejected
Enabled by default: Online and Email
Supplier information is updated
Enabled by default: Online and Email
A new comment is received

Notifies you if your customer sends you a new comment or a reply to your question/comment regarding a Supplier Information Management (SIM) form request/response.

Enabled by default: Online and Email

A form response needs your attention
Enabled by default: Online and Email
Integration Errors
Enable notification for integration error
Disabled by default.
Invoices
A new comment is received

Enabled by default: Online and Email

An invoice is approved
Enabled by default: Online and Email
An invoice is paid
Enabled by default: Online and Email
An invoice is disputed
Enabled by default: Online and Email
An invoice is withdrawn from dispute
Enabled by default: Online and Email

Legal Invoice Export Ready

Enabled by default: Online and Email
An invoice is abandoned
Enabled by default: Online and Email
Orders
A new comment is received
Enabled by default: Online and Email
A new order is received
Enabled by default: Online and Email
An order is canceled
Enabled by default: Online and Email
Order Header Changes
Order change request is rejected
Enabled by default: Online and Email
Profile
Public profile is updated
Disabled by default.
An information update request is received
Enabled by default: Online and Email
Profile update reminder is received
Disabled by default. Future functionality. 
Update information requests
Disabled by default. Future functionality. 

Receipt Request

Receipt created
Disabled by default.
Terms of Use
New Terms of Use are received
Enabled by default: Online and Email
Users
A new customer connection is created
Enabled by default: Online and Email
Service/Time Sheets
A Service/Time Sheet is approved
Enabled by default: Online and Email
A Service/Time Sheet is rejected
Enabled by default: Online and Email
You also receive notifications displayed in a green bar following certain actions, for example:

If you change your notification preferences, remember to save them.