Access Add-ons
Access Coupa supplier add-ons, for example, Coupa Advantage, Coupa Accelerate, supplier profile update, and more.
Add-ons
An add-on is a value-creating product or service that you can begin to use or express interest in using, for example, Coupa Advantage, Coupa Static Discounting, or invoice financing.
As a CSP admin, you can access information about all the available add-ons and let Coupa know if you are interested in these services, and you can update your supplier profile or set your early payment discount terms, all from a single page.
When you click on the Add-ons tab, you can see the following page: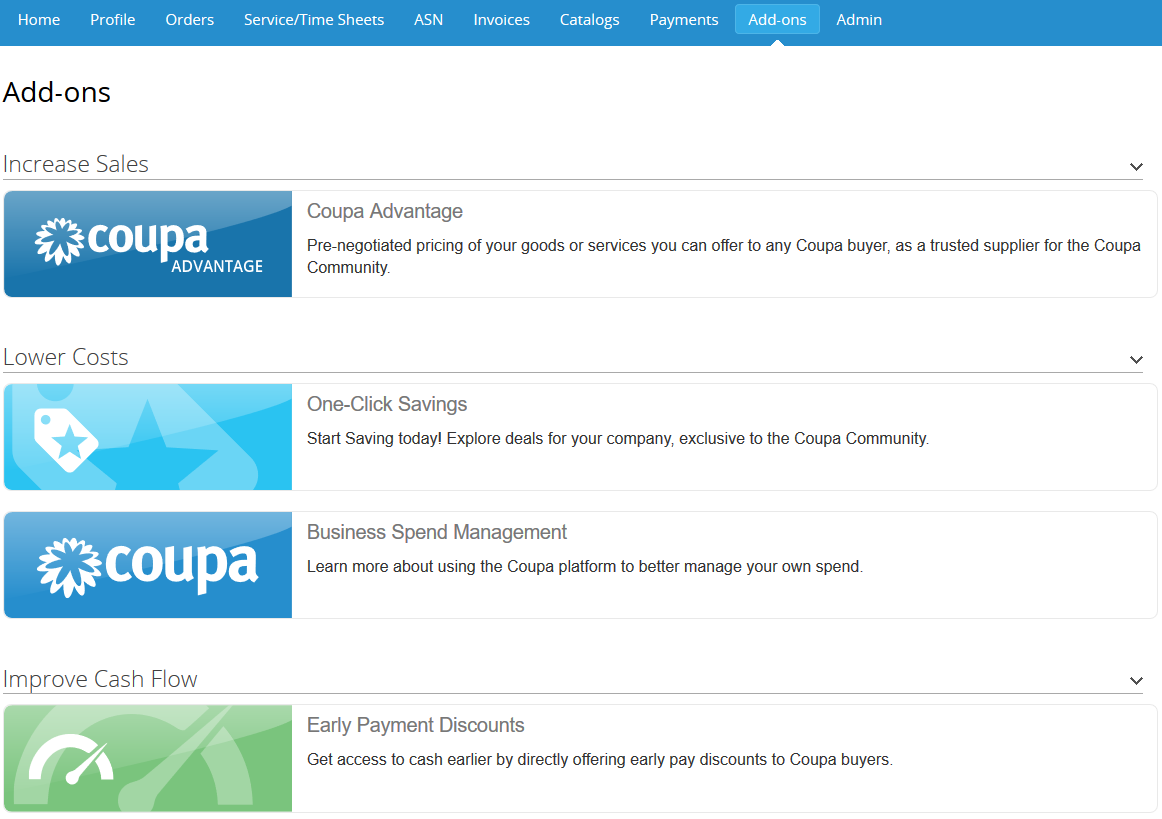 You can collapse/expand each category by clicking on the arrow icons.
Clicking on a box (icon and text) directs you to the relevant pages to find more information about these add-ons:
Add-on
Description
Increase Sales
Coupa Advantage

Pre-negotiated pricing of your goods or services you can offer to any Coupa buyer, as a trusted supplier for the Coupa Community.

You can express interest in becoming a Coupa Advantage supplier.

Lower Costs
One-Click Savings

New.

Start saving today! Explore deals for your company, exclusive to the Coupa Community.

You can learn about the Coupa Cares program, explore savings opportunities with Coupa Advantage suppliers, and express interest in becoming a Coupa Advantage supplier.

Business Spend Management

Learn more about using the Coupa platform to better manage your own spend.

You can express interest in becoming a Coupa customer.

Improve Cash Flow
Early Payment Discounts

Get access to cash earlier by directly offering early pay discounts to Coupa buyers.

You can set your preferred early payment discount terms by clicking on the Update Static Discounting Preferences button, which takes you to the Admin > Static Discounting page.
One-click savings
When you log in to the CSP, you can see a banner at the top of the Home page above the profile progress information with the following message: "New: Exclusive discounts for your business to thank you for being a part of the Coupa Community." and the One-Click Savings section under the Announcements section.
You can close the banner, but it is displayed every time there is a new offer.

Go to the One-Click Savings page by clicking on the:
Exclusive discounts link on the banner.

View All link under the One-Click Savings section under the Announcements.

One-Click Savings box on the Add-ons page.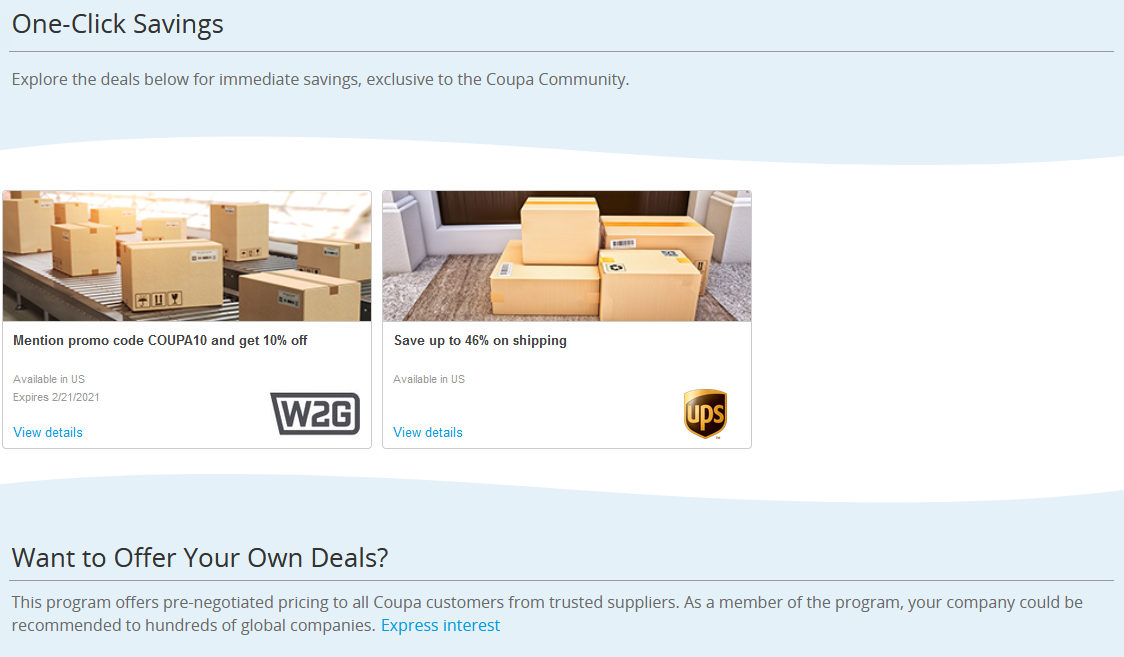 View the discounts and special offers of Coupa Advantage suppliers, along with the expiration date and geographical availability (one or multiple regions) of these savings opportunities. To explore the deals, click on the View details link on each coupon.
If you select a direct discount coupon, you can see more details about the supplier, the offer, and the region(s) of availability, find the discount code, and start shopping on the supplier's shopping website.

If you select a special offer (that requires email contact for a commercial relationship to be handled outside of Coupa), you can see more details about the supplier, the offer, and the region(s) of availability, find a disclaimer with a link to the supplier's privacy policy, and send an offer request to initiate a commercial relation between you and the Coupa Advantage supplier.

When you click on the Send Offer Request button, the supplier and the Coupa Advantage Team receive an email with the following subject: "A Supplier is Interested in Your Coupa Advantage Offer", and a green banner is displayed with the following message: "Your request to redeem this deal has been sent to the supplier."

If you already sent this offer request earlier, the following message is shown: "This request has already been submitted. The supplier will contact you shortly." The other supplier does not receive an email if you try to send the same offer request within three days.

Your name and email are sent to the supplier whose coupon you want to use, and a representative contacts you with more details on how to redeem the offer. The processing of your data is subject to the supplier's privacy policy that is linked in the disclaimer text.
If an offer is not available in a selected region, you can see the "Sorry, there are no savings available in your region yet, check back soon, we are regularly adding new deals." message.
To express interest in becoming a member of the Coupa Advantage program, click on the Express Interest link at the bottom of the page.
Clicking on the Express Interest button on the Coupa Advantage, Invoice Financing, or Coupa Business Spend Management page generates opens the Coupa Advantage homepage, where you can learn more about the program. Click Learn More to access the Get In Touch contact form that informs the relevant Coupa team about your interest.