Participate in a Sourcing Event
Learn how to participate in a Sourcing event.
Participate in a Sourcing event
Receive an email from the buying organization inviting you to participate in a sourcing event. For example:

Accept the Terms and Conditions.

Click on the activated Enter Response button at the bottom of the page to view details of the event.

Click on the My Response tab.

Depending on the event, you can see one or more of the following sections:

Section
Description
Attachments

Files you receive from the buyer or you send back.

Coupa Sourcing does not support .zip or .exe files for security reasons.

Questionnaires
Questions that the buyer needs you to answer.
Items and Lots
Pricing section.
If you want to partially participate in an event, don't add a price if you do not want to participate in an event. However, if the field for the price is marked mandatory, then you have to add a price.
You have the following options to respond:

| Section | Description |
| --- | --- |
| Export to Excel | Exports the questionnaires and the items and lots into Excel where you can fill in your response. |
| Import from Excel | Uploads your response Excel. |
| Save | Saves your response, but it does not submit it to the buyer. |
| Submit Response to Buyer | Submits your response. You can change your response before timeout, and re-­submit. |

After submitting your response, the "Response submitted to Buyer" notification is displayed on a green bar for approximately 5-10 seconds.
To double-check if your response was received, check the History at the bottom of the page.
Participate in a follow-on event
When you receive an invitation to a follow-on event, you can respond from the notification. Select either I intend to Participate to notify the Buyer you will participate later, or View Event to go to the event page and enter your responses. The notification will also indicate the original event.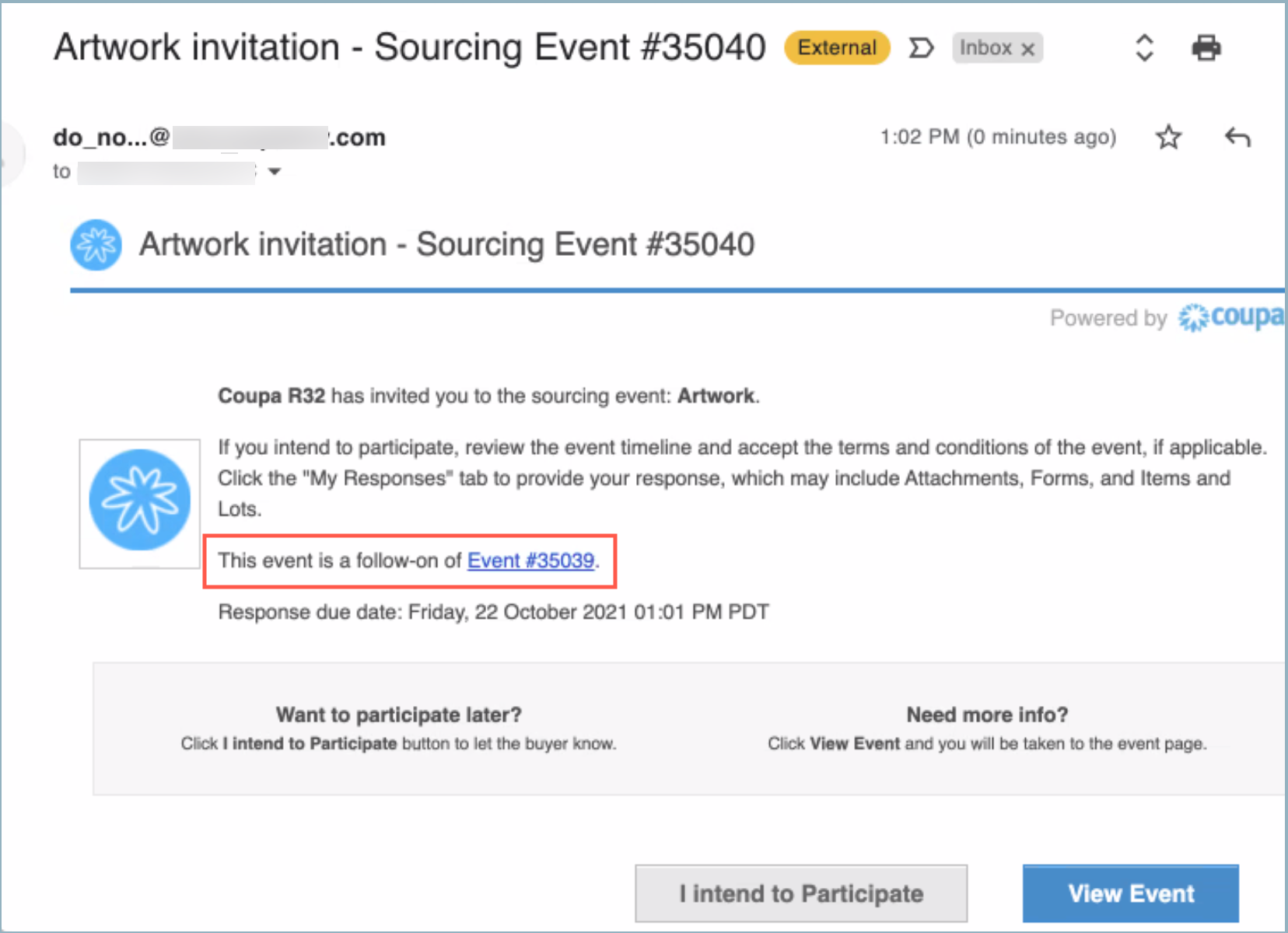 On the event page, you can review the follow-on event information. Under the Event Follow-On Information section is a link to the original event. To participate in the follow-on event, select I intend to participate in this event and accept the Terms and Conditions.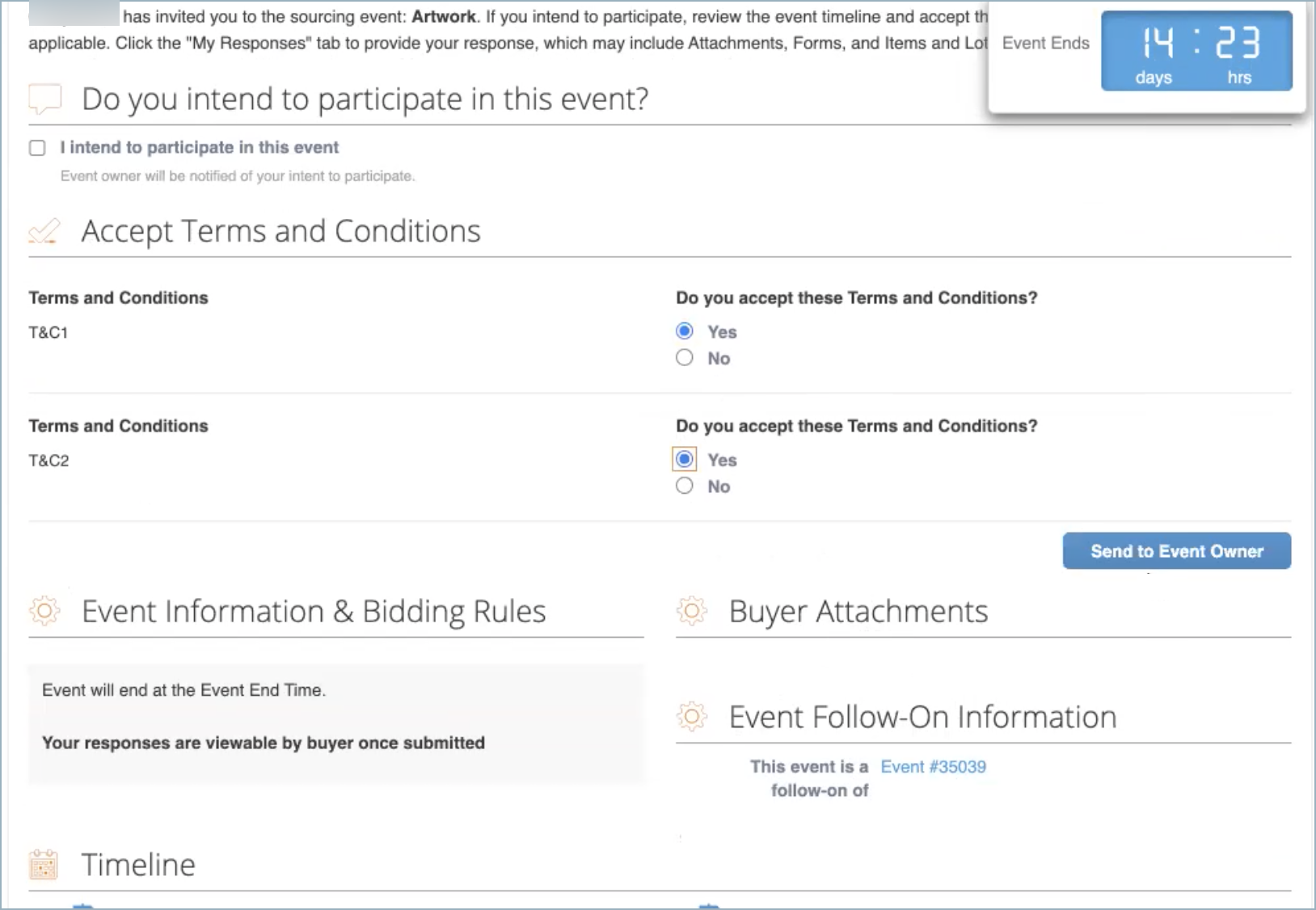 Once you select Send to Event Owner, you can select Enter Response below the Timeline section to view the Buyer Attachments, Forms, Material Qs, and Items and Lots for the event. Your response from the previous event is automatically carried over as a draft.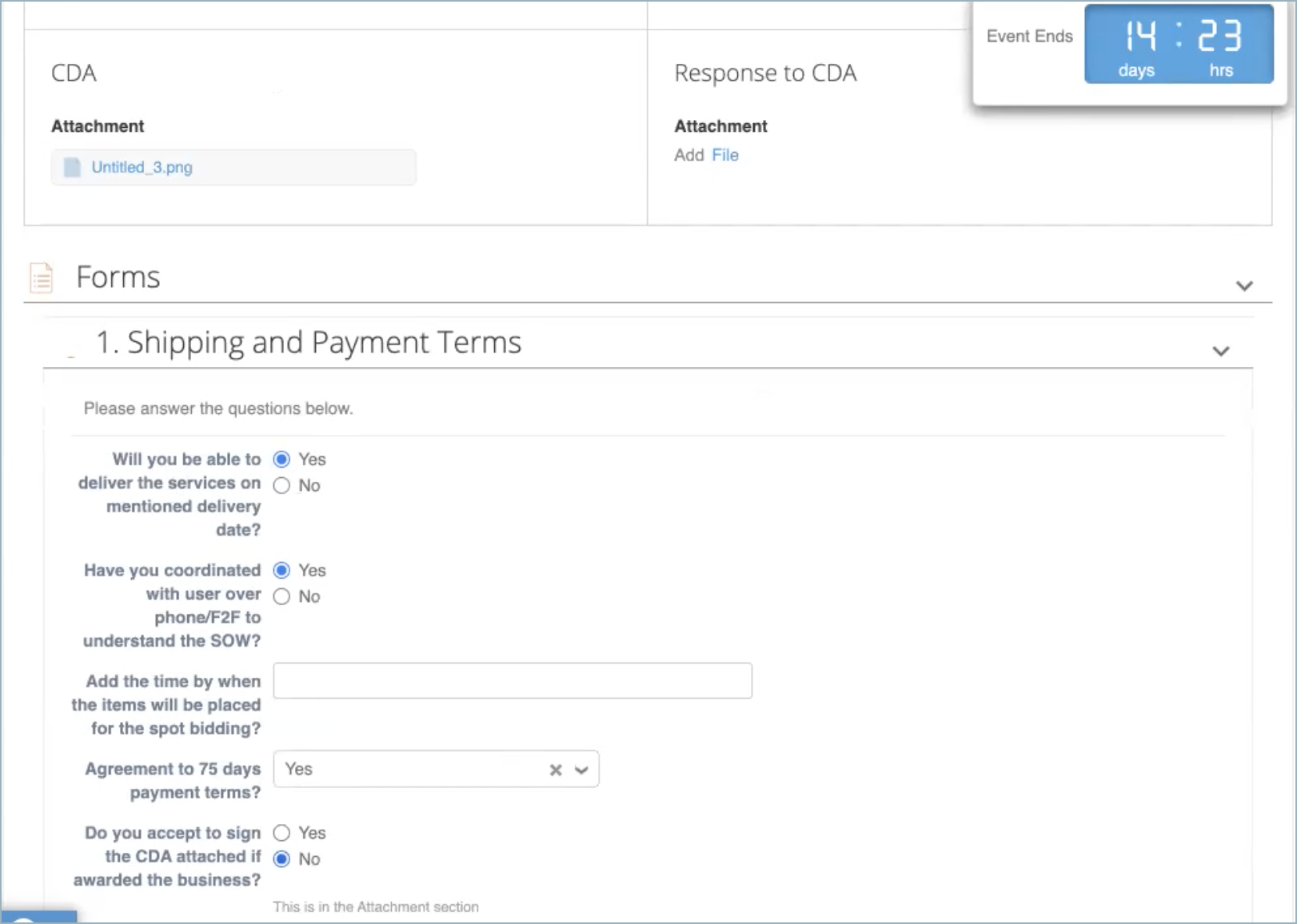 You can edit your previous response and submit.